Alpine Self Guided Walking Holidays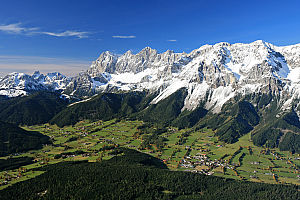 Ramsau am Dachstein is a mecca for walking & hiking with a varied, 3-tiered landscape the picturesque scenery of the Dachstein mountains make it a fantastic and very popular walking holiday destination that offers something for everyone.
Walks are available at the Ramsau high plateau at 1,200 metres, the alpine pasture area at 1,700 metres and the Dachstein Glacier at 2,700 metres above sea-level, with the higher areas easily accessible through gondolas and cable cars.
Many walks start right from the doorstep and many more walks are accessible through short bus or cable car rides.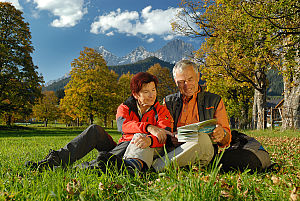 The accommodation: Very comfortable Double / Twin Rooms all have balconies with panoramic views of the surrounding mountains. Featuring "Continental Twin" beds (2 single mattresses within 1 bed frame 180 cm wide – Superking) all with either 1 or 2 sofa beds, sleeping from 2 to 4 people. Each room has a newly refurbished en-suite power-shower/bath/wc with hair dryer, and a Sat TV/DVD player, ipod dock, room safe and seating area.
Superior Rooms with 4 poster beds, silk drapes & antique furnishings are also available.
In addition there are 3 fully equipped Apartments, each with 2 bedrooms available as either Self Catered or with Breakfast.

Other facilities include: Dining room in traditional Austrian style, Residents Bar, Guest Lounge with Billiard Table, Internet Terminal, Books & Board Games, Home Cinema, Free use of DVD library with over 650 titles, Free Wireless Internet throughout the Pension, Sun-deck with sun loungers and great views, Table Tennis, Wellness Suite with Infrared Sauna, Gym & Treatment Room – massage is available (charged locally).
Breakfast is an extensive buffet.
Packed lunches can be provided but all walks have several mountain huts en-route serving food and drinks. There are several good quality restaurants serving traditional Austrian and International cuisine within walking distance of the Hoffelner.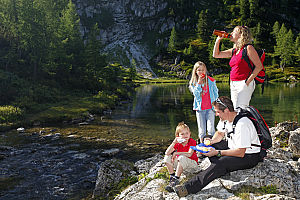 Walking in the Dachstein Mountains:

The Dachstein mountains in Austria offer a varied range of walks for every ability, from high level mountain walks and hiking on the glacier or other local peaks, such as Planai, Hochwurzen, Reiteralm, to level walks around the plateau (1150m). You will receive a local walking map, and your hosts will sit down with you to advise you on a personal walking programme based on your interests and wishes.
The footpaths are well-marked and lead through stunning, sunny terrain to the alpine pasture region at 1,700. A thousand metres above the mountain pastures at an altitude of 2,700 m above sea level lies the Dachstein glacier that is easily accessible with the Dachstein cable car. From the Hunerkogel station you can enjoy a 360 degrees panorama.
It is also possible to stay in higher level huts overnight to break longer walks and add to the adventure,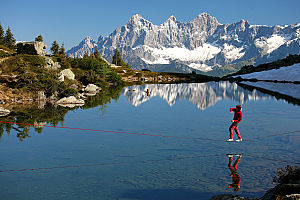 Included in this Holiday:

7 to 9 nights accommodation, buffet breakfast, rental of adjustable walking poles tailormade walking program, walking map and walk descriptions.

The "Dachstein Summer Card" is also included and allows you the free use of all mountain gondolas, cable cars & chair lifts, free entrance to all local swimming pools & lakes,  free entrance to museums and free use of local buses, toll roads & hiking taxis. Over 90 local activities & attractions are included!

Price
From € 364 – 7 nights
Available from June to October.

Price per person based on 2 people sharing a Standard Double / Twin Room with en-suite & balcony.
Supplement for Superior Double Room : €4 / person / night.
Please enquire for Apartment prices.

Not included: All other costs, including travel costs to the starting-point of this holiday.
Local Toursit Tax : €1.8 / person / night

For groups of 4 to 8 guests arriving on the same flight in Salzburg (1 hour), we can provide private minibus transfers: approx. €40 to €60 / person, return.
It is also possible to take the train from Salzburg to Schladming (10 minutes). We could include a railway transfer.
Car hire from the airport is popular and reasonable, please contact us for more details.
Dachstein Mountains walking holiday itinerary

This itinerary is just an example to show the variety of walking available, your hosts will recommend a personal walking programme, based on your interests and wishes.

Day 1 – Travel to Austria, meeting your hosts who will sit down with you to discuss your walking programme.

Day 2 – Styria's most popular hiking trail, the 5 hut or Dachstein trail, in the shadow of the south wall of the Dachstein range. The pale, four-kilometer wide south wall rears up above pale larch forests and mountain pastures dotted with mountain chalets, horses, cattle and sheep. Visit the Alpine Museum at the Austria Hütte. This traditional hiking trail is one of the most impressive hikes in this area, with superb views. 5 to 6 hours, easy to moderate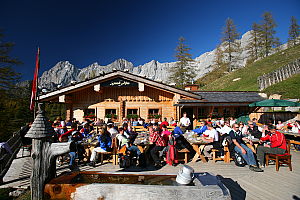 Day 3 – The "Wild Waters" hike in Schladming-Rohrmoos is the world's first National Geographic hiking path. It follows the Talbach river from Schladming via the village of Rohrmoos-Untertal to the Riesach Falls, which are the highest in the region with an adventurous trail which includes ladders, ramps and a high suspension bridge which follows along side the thunderous falls leading to a broad area of alpine pastures next to the picturesque Riesach lake (1338 meters altitude). 3 to 5 hours, depending on starting point, easy to moderate

Day 4 – Head up to the Bachlalm then across the Mandling river & to the Dachstein Glacier cable car. Take the cable car up onto the glacier (2687 meters altitude) and walk in the snow to the Seethalerhütte for lunch, visit the ice palace and enjoy the fantastic views. Travel down on the cable car or alternatively across the glacier and back down into the village. 5 to 6 hours, easy to moderate.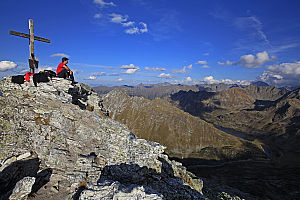 Day 5 – Head to the Silberkarklam which is a very picturesque narrow gorge accessed by wooden walkways along the waterfall and opening into a huge natural bowl, lunch at the Silberkarhütte. Head up to the Silberkar lake (1805 meters altitude) and across to the Guttenberghaus (2147 meters altitude), which is the highest "Hütte" in Austria for afternoon tea, then down the trail which emerges directly behind the house. This is a very impressive hike. 6 to 8 hours, moderate to challenging.

Day 6 – Take the gondola up to the top of Planai (1906 meters altitude) and then the Panorama Way around the top of the mountain for 365 degree views, lunch at one of several mountain restaurants and then either take the trail or the gondola back down and visit the pretty town of Schladming. 2 – 3 hours, easy.
Day 7 – Through the village of Ramsau to the Rittisberg (1565 meters altitude) and around a pretty circular woodland trail, lunch at any one of the 6 mountain restaurants en-route and then stop off at the swimming lake to swim or do some archery or try the Forest Park then take the chair lift up to the top of the Rittisberg and enjoy the views and afternoon tea. 4 to 5 hours, easy to moderate.

Day 8 – Take the gondola up the Reiteralm and then hike up to the Gasselhöhe which is the highest point (2001 meters altitude) and offers magnificent views of the Dachstein mountains. Follow the ridge around the natural bowl and then take the trail down to the Spiegelsee (Mirror Lake), for a refreshing swim or paddle, then on down to the gondola. 4 to 5 hours, easy to moderate.
Day 9 – Walk through mountain pastures and woodland in a very pretty circular route around the sunny Ramsau plateau, visiting the churches in this historic region and stopping off at one of the many mountain restaurants en-route. 4 to 5 hours, easy.

Day 10 – Travel back home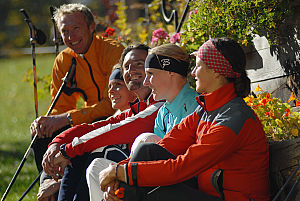 Self-guided walking holidays are flexible and can start on any date to suit your travel plans. The holiday can be longer or shorter.