The Pension Hoffelner is a Sommercard Partner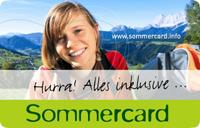 www.sommercard.info
From May to the October all guests staying at the Pension Hoffelner will receive the Sommercard which offers every guest the opportunity to make use of over 90 FREE activities of recreational attractions in the area Free of Charge!
There are more than 100 attractions included!
The Dachstein cable car once per week – FREE! (usually costs €32 / Adult)
All other local mountain lifts – 5 chairlifts & gondolas are included FREE (1 lift / day)
Toll Roads – 5 local Toll Roads are included – FREE
Transportation – Local Buses & Hiking Taxi's – FREE
Swimming Lakes and Pools, 12 local indoor & outdoor pools & lakes are included – FREE entrance
Local Museums – 11 local museums are included  FREE entrance
Recreation and Nature Adventures –  15 different attractions are included – FREE. Such as:
Wörschasch Gorge, "Wild Water" the highest waterfall in Styria, Mini Golf, Pine Oil Distillery, Diving Rod Tour, Öblarn Copper Trail and more………
Sports and Hiking Adventures – 10 sporting programs are included – FREE, Such as:
Guided Hiking, Glacier Hike, Nordic Walking, Paragliding course and more……..
Program for Families and Kids – 44 different activities & attractions for children & families are included  – FREE. Such as:
Mini Kids Forest Climbing Park, Donkey Rides, Tractor Rides, Bread Making, Free Child Care, Kid's Program, Horse Riding, Treasure Hunt, Fishing, Climbing for kids, Adventure hike, Carpentry & much more………
You can take advantage of the included activities as often as you want at no charge.
KidsCard
Lot's of attractions designed especially for kids – The KidsCard's weekly program promises all kinds of action, excitement, fun and games. Special children's events, swimmming lakes, mini- golf and lots more, all ensure that your KidsCard family vacation becomes an unforgettable experience!
There are also many "Bonus Partners" who offer activities & attractions with generous discounts: there are 44 "Bonus Partners"