Ramsau am Dachstein - a World Class cross country ski resort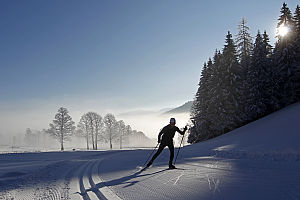 150 km network of classic tracks, 
70 km for skating freestyle
11 different tracks altogether,

at altitudes of 1,100 - 2,700 m and of varying levels of difficuty - easy to demanding
A classic track runs directly through the garden of the Pension Hoffelner and so making it a ski in/ski out location
The FIS Worldcup Nordic Combination competition will be held in Ramsau on the 9 - 11th December 2011

Cross country skiing and skating have become popular winter sports and are booming like never before.  Physical activity outdoors revitalises the senses, fulfills the desire for healthand fitness and awakes a sense of well-being and mental balance.
There are 20 km of well-groomed cross country trails on the Dachstein Glacier:
Whilst the cows are grazing in the valley, the cross  country world champions are already training on the Dachstein. Up to 700 athletes from 30 countries ski on the glacier trails daily. 
There are several excellent Cross Country Ski Schools in Ramsau and a Nordic training centre. 2 Hour taster courses can be booked for a little as €25 including equipment hire.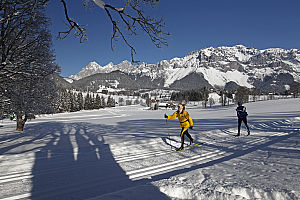 International Teams /Clubs
Many International Cross Country and Biathlon teams / clubs stay at the Pension Hoffelner whist training on the Dachstein, usually in October and November before the competitions start.